Nov 08, 2021
INTIMISSIMI Nightwear & Homewear. Dreamy Collections to Mix&Match in total freedom
Dreams are desires, brought to life with Intimissimi. The new Intimissimi collection is the perfect expression of the latest nightwear trends, a world in constant evolution that has come to encapsulate a comfort-oriented lifestyle. The boundary between homewear and everyday clothing has become increasingly blurred, which is why Intimissimi has created a collection that gives you the freedom to mix and match nightwear, so you can make your dream outfit a reality.

Fabrics are selected and created using a mix of natural fibres, which provide not only comfort and softness, but also a refined sense of style. These are all important characteristics that have made the brand synonymous with sophisticated elegance. The watchword underlining the collection is a simple one: mix & match. There are countless different looks that can be achieved by combining knitwear, shirts and cardigans with trousers or shorts. The versatility and mixability that distinguishes Intimissimi nightwear gives every woman the chance to develop her own style and adapt it to different moods and needs. An added perk for those who want to experiment with original and ever-changing looks.

The collection is composed of many different moods. "Cozy at Home" is a hymn to comfort with a British twist: soft check shirts are perfect for creating outfits with a country-chic feel. The "home-suit" is an extra special garment, with pure white maxi-rib cotton-velvet palazzo trousers, ideal for receiving guests at home, but just as suitable for going out if teamed with melange-coloured jumpers and details that evoke a homemade feel.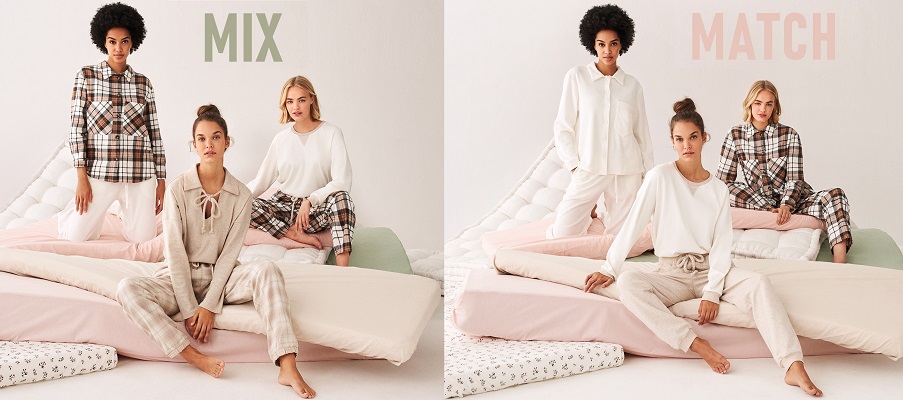 The "Pretty Iconic" range, featuring white and grey colour-block designs, offers mix-and-match items. The palazzo pants are available in two versions, either with side bands or with contrasting lace hems. They are great teamed with a maxi sweatshirt for a sporty-chic look or paired with a maxi cardigan or oversized V-neck jumper for a more sophisticated look. The details are enriched with velvet lace, ideal for those seeking timeless elegance.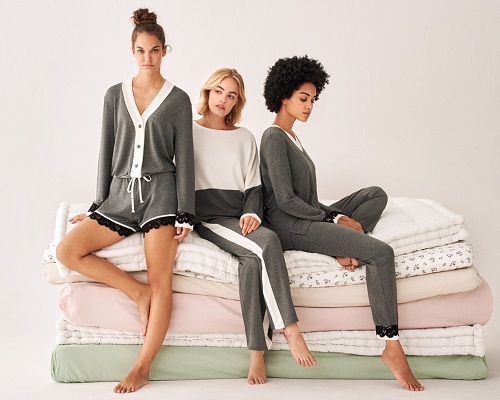 For a more romantic feel, the "Cotton Rouches" line nods to the cottage core trend, with references to poetic rural imagery. It features delightful cotton canvas shirts adorned with delicate pink ruffles, which can be coupled with the plain or striped matching trousers for a coordinated look.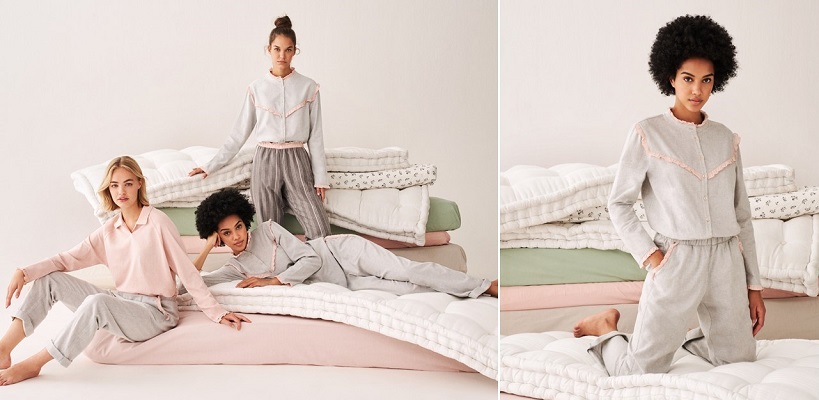 Last but not least, we have "Wearing a Cloud": boasting the colour of a clear sky, the pyjamas of this range are a triumph of softness and elegance. Sumptuously soft, they consist of a shirt or V-neck jumper to be worn over palazzo or straight-cut trousers. All enriched with tone-on-tone chenille details.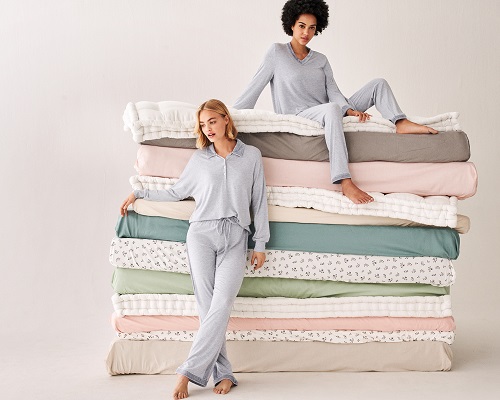 To find your dream mix, choose the Intimissimi Nightwear & Homewear collection.