Mar 07, 2022
INTIMISSIMI SPRING COLLECTION CAMPAIGN
For Spring 2022, Intimissimi continues its journey in search of the beauty that makes every woman unique.
An itinerary that enhances different types of femininity thanks to the renowned Italian style, the true protagonist of the collection. Impeccable savoir-faire, aesthetics and design have been fine-tuned to showcase all the incredible facets of every body and personality.
The campaign that presents the collection is set in Venice, emblematic of art and of those Italian values recognised by the whole world and inherent in Intimissimi's DNA.
This is how four women meet in this romantic city, between breakfasts on roof terraces, walks through the streets, gondola rides along the Grand Canal and lunches in the historic cafés of St. Mark's Square.
Taking the starring role are lingerie garments, perfect to be worn under clothes but also left on show, made with skill and impeccable aesthetic taste.

There are many lines proposed in the collection, such as the sensual Feeling Sexy in an extremely light black lace and enriched by patterns in soft elastics and rings that draw intriguing nude effects on the body.

The most romantic spirit is embodied in the Jardin d'Amour family that plays with the transparencies of tulle and sophisticated floral lace to create fine quality, incredibly chic garments.

The Cottage Craft line, in a delicate natural colour, offers items with a sentimental allure in a graceful crochet-effect lace. With ever-present embroidery, in the Stir the Senses line the contrast of the black embroidery on the tulle creates a seductive tattoo effect on the skin, enriched by the profiles of the garments in soft, shiny satin. For those who want to feel pampered on the skin, the suits of the Floral Groove line are perfect: the lace of the garments, in delicate pastel shades, contains modal yarn, making them decidedly soft and comfortable.

Finally, the Bloom & Blossom line expresses the most fashionable side of the collection in a lace printed with spring flowers finished with contrasting black details and bows.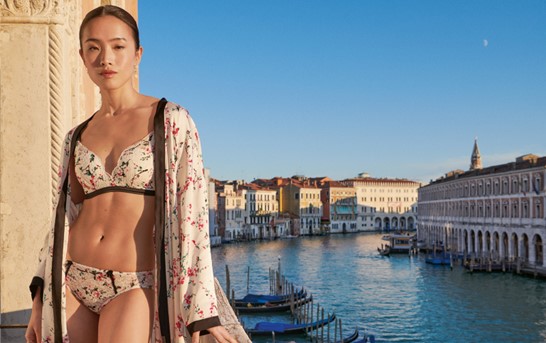 The soundtrack that accompanies the four women during their Italian-style day is a romantic musical background, which evokes 'la dolce vita' that made Italy synonymous with beauty, sophistication and joie de vivre.