Oct 04, 2021
​Ultralight with Cashmere. One unique fiber, endless models
"In Intimissimi, the fiber comes first, followed by the shape. If a sweater were a perfume, the fiber would be its essence."
For the Fall-Winter 2021/2022 season, the brand is once again focusing on its now iconic, fine, soft and essential fiber, Ultralight with Cashmere: a unique fiber with a second-skin effect, almost velvety, which Intimissimi is presenting in new models and colours for this season.
With the new campaign, the brand chooses to give strength to the iconic colour - black - and to make it available in numerous models, from the most sought-after to the most minimal. A single model to communicate many shapes with which every woman can play to create unique looks that also leave room for a delicate glimpse of the lingerie beneath.
Each garment encapsulates the sophisticated, elegant style of the Intimissimi woman. The models on offer include the high neck sweater, the crewneck bodysuit, the iconic boat neck sweater the top and the long-sleeved sweater characterised by a lace flounce on the V-neck to add a romantic twist. A high neck bodysuit and crewneck sweater are this season's new additions.
Colour explodes in the collection's iconic piece: the boat neck sweater. The new palette presented is enriched with variants in dusty tones such as antique pink, an ash green, a denim blue and warmer tones such as dark red and walnut brown.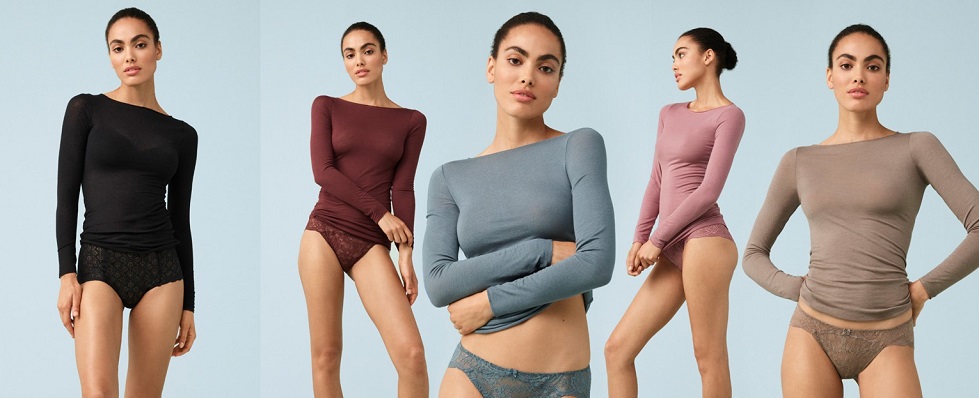 The entire knitwear collection features essential pieces for every woman's wardrobe, perfect go-with-anything garments to wear under an oversized blazer, with a maxi-sweater or, why not, with five-pocket denim jeans.

For those dreaming of something unique that makes the wearer feel special every day.
For all women, for every occasion.
#intimissimicares project: traceability
"Improving is part of our culture. This is our idea of sustainability."
Since its foundation, Intimissimi has made a name for itself not only for the quality and beauty of its garments, but also for its extensive control over the production chain. 94% of the items sold in Intimissimi stores are actually produced by factories owned by the company in Italy and abroad. This decision allows production management to be coordinated with the other phases of the supply chain, ensuring total dedication to brand needs and the elimination of intermediaries. In this way, it is possible to maintain high quality at an affordable price. This business model involves significant investments and the opportunity to offer jobs to a large number of employees, for the benefit of the communities in the towns in which the companies are located. In this way, it is possible to guarantee an excellent working environment inside the factories and respect for the human rights of the people who work there.
Specifically, knitwear items are produced in the Gordon (Serbia), Vavuniya (Sri Lanka) and Zalli (Bulgaria) factories. The garments then arrive at the logistics hub in Valais (Italy) and go on to be shipped to stores all over the world.