May 09, 2022
CALZEDONIA. A summer escape. An explosion of colours and a burst of energy define the summer collection
Summer escape. An explosion of colours and a burst of energy define Calzedonia's summer 2022, with a palette of deeply intense shades.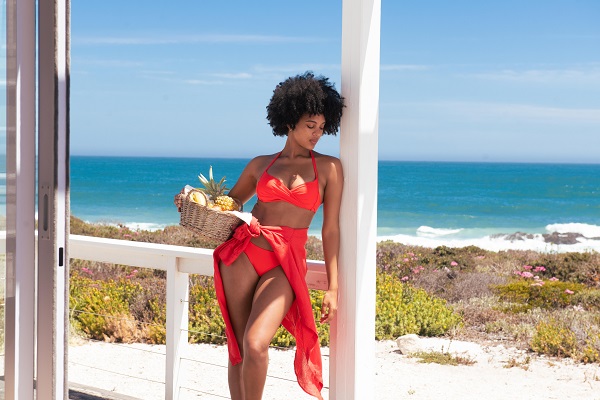 CALZEDONIA INDONESIA ongoing collection introduces a new trendy colour palette designed in a wide range of cuts and silhouettes; bra and brief models that can be perfectly combined according to one's personal taste, en pendant or split, to create the perfect bikini even thanks to a wide range of sizes fitting every silhouette.

Available in orange, coral red, sky blue, lilac and classic black and white, these models are crafted in eco-friendly fabrics with a low environmental impact.

Tops, bandeaus and triangles, each combinable with different models of bottoms, from the classic one to the one with laces, to the adjustable Brazilian briefs, and a variety of one-piece models are available featuring a U-neck or with underwiring to enhance and support the décolletage.
The TOKYO collection, made with green-oriented materials, stands out thanks to its sporty attitude and the strong echoes of the Eighties: a mix of combinations of saturated and fluorescent colours - Klein blue, fuchsia, orange, lime and lilac - that, with contrasting laces, allow the colour block line to take on new meanings, providing the possibility to create a perfect mix & match style. Triangles or tank tops to wear with Brazilian briefs or with double thin laces on the hips. Athletic and dynamic, for a summer filled with energy.


New entry amongst the fabrics for the Calzedonia 2022 swimwear collection: terry cloth, the undisputed star of the season. A soft and super-comfortable fabric with low environmental impact, it provides an eco-friendly and fun alternative for those who do not want to give up being trendy even at the beach.

Featuring matching swimwear and beachwear it's available in delicate pastel colours, as well as in floral patchwork prints and 3D patterns. There are many fits and shapes which can be worn in different ways thanks to various straps. The perfect choice for lovers of the American beach girl style of the Nineties.