Oct 31, 2022
​Ultralight with Cashmere - A unique fibre, only by Intimissimi
This Autumn-Winter 2022/2023 season, Intimissimi focuses once again on its finest fibre: Ultralight with Cashmere.
The brand unveils a campaign with a new creative approach that addresses women by seeking to describe what it feels like to wear an Ultralight with Cashmere garment. Memories and sensations are awakened by the light feel of the fabric, its soft caress against the skin and feminine sheerness.
In the background, whispers of wind and rays of light envelop the body of the ad's main star and accompany the viewer towards a pleasant sensation of comfort.

The styles boast feminine, sheer finishes, namely the polo-neck jumper and the iconic boat-neck jumper, designed in a new colour palette that teams on-trend shades, such as Evergreen, Vivid Blue, Cosmic Violet, Ribbon Red and Blooming Pink, with more elegant tones, such as Jade Green and Nutmeg Brown.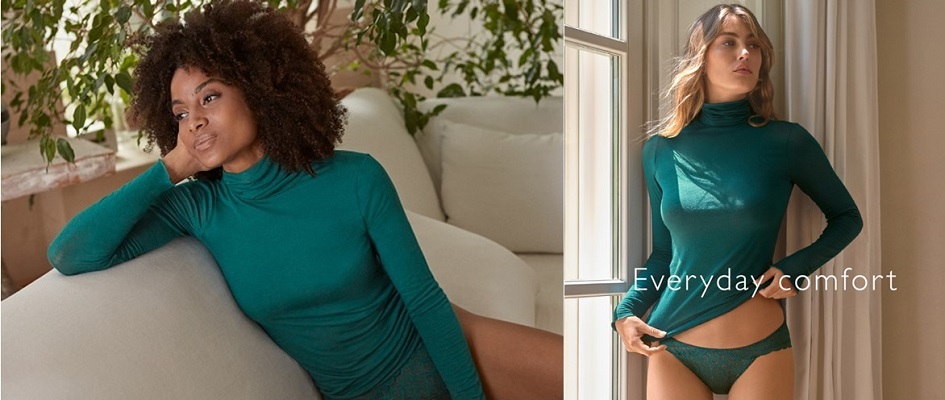 Comfortable and soft against the skin, Ultralight with Cashmere envelops the body of every woman, imparting a sensation of lightness and warmth at the same time. The combination of modal and cashmere make this fibre unique, perfect for wearing as an undergarment when the temperatures get colder, but above all, great layered over other garments from the Intimissimi collection, such as an oversized blazer or a maxi jumper.
A unique fibre exclusively from intimissimi, designed for all women who love to feel special and at ease every day, whatever the occasion.